Can you name the famous people in this photograph?  I restored it several years ago from the original 8×10 photo.  It was shot by my friend Lilo, who is originally from Germany and is now an American citizen.  As I understand it, she was always hanging around Berlin with a camera…she just happened to look around  and  snap this.  I find it fascinating…of course Bowie is immediately recognizable, but the others in the photo look vaguely familiar to this baby boomer; and is the blonde woman singing?  They all seem to be attentive to her as if she was performing…and what's with the lily; I get the feeling of a cemetery.  A funeral, perhaps?  Hoping Lilo will respond with a comment and enlighten us. Regardless, it's a wonderful study in human drama; perhaps they were even filming a scene!  
http://www.westlightstudio.com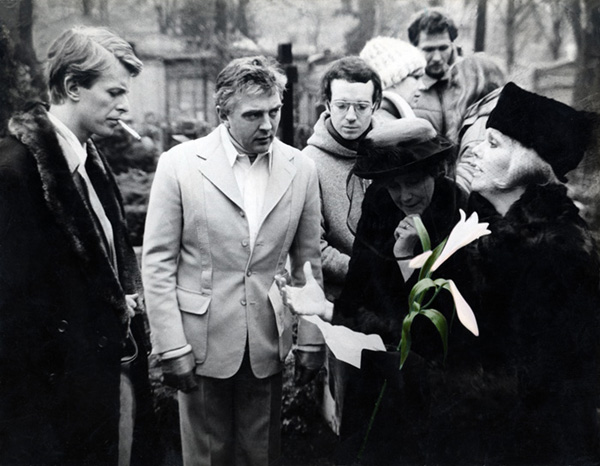 ClassicQuote of the Day:  
One need not be a chamber to be haunted;
One need not be a house;
The brain has corridors surpassing
Material place.
–Emily Dickenson